Dear Ricky Martin, I heard water was wet too
Disclaimer: Let the record show that iHeart the gays. Read this. Reread it. #NoHate. So SHARRAP.

"He's not gay. It's just that when he speaks, rainbow, glitter and purses fall out." – A friend of mine. iDied THRICE!
So Ricky Martin just went on his official page today to say that he is a proud homosexual man. I am here to tell him… DUH!
Dear Ricky Martin,
How have you been? It's been a while since your "Living La Vida Loca" days. How have you made your livelihood? I surely haven't seen you anywhere. Have you resided in 101 J.Lo's Pool Shack Blvd.? I suspected it. Anyway, I'm glad to see you're ok.
Now, I see you went to your site today to let us know that you are, in fact, a proud homosexual man. *blinks blinks* Do you hear that, Ricky? That was the inaudible and un-existing collective un-gasps of all of us. That wasn't news to any of us. We already knew. I pride myself on being a sleuth of sorts. Dick Tracy's nosy little sister. But umm… I had to do none on this one.
In fact, you telling us that you're gay is like having a press conference proclaiming that:
Water is wet
Rosie O'Donnell likes flannel
Rihanna sounds like a choking cat when she sings
Them gloves fit OJ
Michael Vick doesn't respect dogs
Amy Winehouse is on that crack
Papa Knowles' power is in his moustache
We'd call all of these the "Inspector Obvious and Captain No Sh*t" press conferences and file them under "Things we already knew."
Ricky, your affinity for low scoop neck tees outted you way before that note on your website. Your penchant for sheer schmedium shirts showing your areola print didn't keep that secret. Wait… does this mean Aaron Neville is gay too? Naw Aaron (and his mole) is just old and country.
But for real though. I AM pleased to see you publicly step out the closet. I can't imagine what it's like having to hide the biggest part of yourself in such a way. Ricky F. Baby, I salute you. That closet was getting musty wasn't it?
Also, I'm glad to know that today was such a slow news day that this made news (slow news days means a celebrity ain't die and Gary Coleman didn't get arrested. This is a good day). Anywho, to commemorate this occasion, I present you with the troop of synchronized leyomi-dropping gays. Giving life, ONE choreographed drop at a time. Get like them.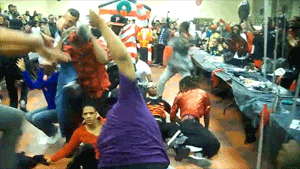 Sidenote: I've watched this GIF nonstop for the past 24 hrs (truly not exagerrating). It's given me PURE oxygen. Each time I watch it, I find a different dude to focus on. Most obvious is husky dude in purpoh. He is COMMITTED to that twirl and drop. He pirouettes with the best of them. Him so light on his feet. There there's dude to the left in the blue cardigan. He clearly missed the drop cue and decided to just vogue and pose instead. Then there's Waldo in the striped sweater and timbs. He is voguing like his life depended on it. All in all, I'm just SO impressed by this. Y'all can hate if you want to. Goddess Leyomi is somewhere PROUD!!!

iLive. uLive. We ALL LIVE for synchronized leyomi dropping!

P.S. Now that one member of NSYNC has come out as gay, and one member of Menudo, I'm starting to think. Does that mean that at least one member of each boy band is un-hetero? Hmm… clearly New Edition had Johnny Gill so… Yes. This must be a scientific fact. Prove me wrong. So… which Backstreet Boy is the token? Howie? *strokes chin*