Announcements and Awesomeness
Hey folks! So last week, I kinda failed at blogging and left everything hanging. I have no excuse besides the fact that *whispers something wack about being lazy* Yup. That's what happened. Anyway, I have a couple of housekeeping things and announcements.
Ok so my FIRST giveaway was for "The Broke Diaries" by Angela Nissel. The winner was chosen randomly, and is "Delight." I need whoever that was to email me their information.
2. I was alerted that I put August 26th as the deadline I gave folks to upload their *wall slide* vidjos. I shall honor that. Y'all got until THIS Thursday at 11:50pm CST to upload videos. And send me links. The winner wins a free *wall slide* t-shirt. AND I'm throwing in a FREE JEANS certificate for the Gap. So you getchu a full outfit. Whoever wins.
c. As y'all know, my blog is up for "Best Humor Blog" in the Black Weblog Awards. ONCE AGAIN! I won last year, and I'm tryna make it a two-peat. With your help, I can at least ATTEMPT! Lawd knows that competition is FIERCE. But if you haven't voted already, please vote for me. And if I win, I shall bless y'all with my version of the video below.
Can you imagine me doing that foolishness? LAWDDD…
This post I wrote has other blogs you can throw into the ring while you're voting too. They all rock socks.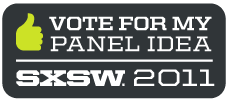 IV. Remember how I said I was aiming for #AllBlogConferenceEverything? Well the MECCA of social media/geek conferences is SXSW. And , I pitched a panel called "Die Laughing So Your Brand Can Live." Well, it made it to round 2 (WOO HOOOO), where folks have to vote by giving it a thumbs up or thumbs down. If my panel gets enough votes, it brings me that much closer to speaking at EPIC SXSW 2011. Help a sista out. 😀 If you want to leave comments, that'd be awesome too. Oh I'm asking for too much? Aight then.
Also check out Adria Richard's post here for other dope panels to vote for. More color is needed at these tech conferences, and these are some quality topics!
5g. My blogroll is currently being rebuilt. A little accident over a week ago deleted it. Don't ask. I'm looking at blogs I may include in it again. So throw your hat in the ring and leave a comment with your blog link. And why you rock. I'm always looking for new blog reads anyway.
I feel like the Little Engine that Could. And I want to say "I did."